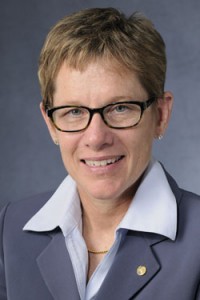 University of Kansas
University Distinguished Professor of Philosophy
Department of Philosophy
3081 Wescoe Hall
785 864 3976
Vice Provost & Dean of Undergraduate Studies
156 Strong Hall
785 864 4907
1445 Jayhawk Blvd.
Lawrence KS 66045 7590
acudd@ku.edu
I am University Distinguished Professor of Philosophy at the University of Kansas, where I also serve as the Vice Provost and Dean of Undergraduate Studies. I have been on the faculty at KU for 26 years and was for 2 years at Occidental College.
My research spans social and political philosophy, philosophy of economics, feminist theory, and philosophy of social science. My dissertation was in the philosophy of game theory on common knowledge. Early in my career I was greatly influenced by Susan Moller Okin's work on gender and justice, which led me to deeper study of feminism, and then to the social psychology and economics of oppression and social exclusion. This work culminated in a book, Analyzing Oppression, which I published in 2006 with Oxford University Press, and which won the Byron Caldwell Smith Award in 2007.
I have also co-authored a book, Capitalism For and Against: A Feminist Debate (Cambridge University Press, 2011) with Nancy Holmstrom, in which I defend capitalism as a positive force for women, affording us a way out of traditional roles and norms, and providing a path out of poverty for the world's poor.
My current research is on inequality in higher education and connects to my work as dean of undergraduate studies. I am deeply committed to the democratic mission of my university, to lift society by educating leaders, building healthy communities, and making discoveries that change the world.
I am the Executive Director of Amintaphil, the American Section of the Association for Philosophy of Law and Social Philosophy.
I co-direct the Mentoring Project, and am past co-editor of Hypatia.
I have served from 2001-2008 as the director of the Women, Gender, and Sexuality Studies Program (now Department), and was the Associate Dean for Humanities from 2008-2013.
For more information about my teaching, research and service, see my curriculum vitae as of June 2014.
I am married to an economist, Neal Becker, and we have three sons.
Networks
Academia.edu
Philpapers